Dynamic Movement Intervention (DMI) is a therapeutic technique used in physical and occupational therapy to treat children with motor delay by improving automatic postural responses and promoting progress towards developmental milestones. The goal of DMI is to provoke a specified active motor response from the child in response to defined dynamic exercises prescribed by the therapist.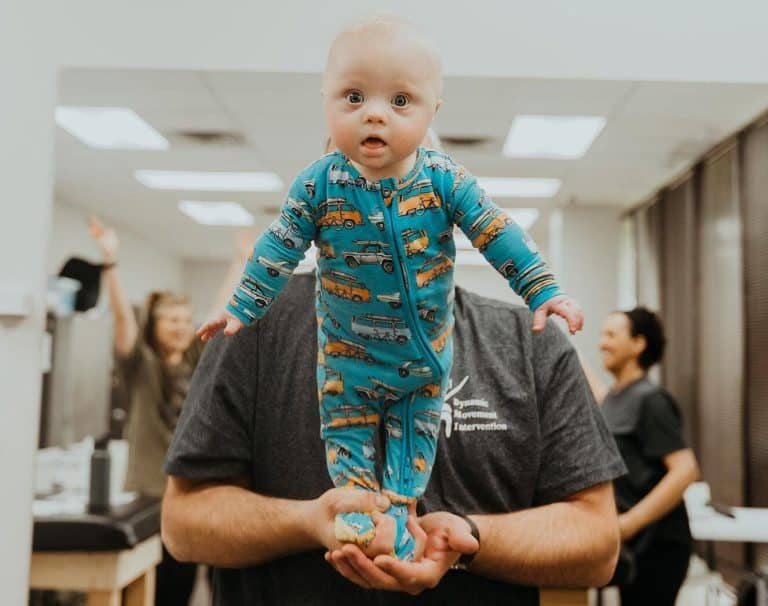 WHO
WHO CAN BENEFIT FROM DMI?
Children diagnosed with any type of motor delay including conditions such as:
BENEFITS
WHAT DOES IT FOCUS ON?
THERAPIST
AMY YOUR DMI THERAPIST
Amy is a highly skilled Occupational Therapist who has been trained by top-notch instructors at DMI (Dynamic Movement Intervention). She's qualified for Introductory Levels A, B and mostly recently in Level C – and is the only OT/PT practitioner in the UK to reach Level C. This makes her a standout in her field, with advanced techniques that give excellent results. Amy is dedicated to her work and is highly sought after by clients. Her expertise and commitment make her a force to be reckoned with in occupational therapy.
DMI INTENSIVES
WHAT DOES AN INTENSIVE INVOLVE?
Any intensive comprises of 2 x 45 minute sessions per day. They can either both be in the morning or one in the morning and one in the afternoon. 
Specific exercises that are only taught in Dynamic Intervention Training (DMI) are used within each session. 
For a week long intensive each day comprises of: Monday to Wednesday x 2 therapy sessions, Thursday is 1 x 45 min session in the morning and then a afternoon pool session (hydrotherapy). Friday comprises of Home Program day where Amy teaches Parents/Caregivers how to do the exercises. As a bonus all children get access to the Hypervibe Vibration plate!
FEBRUARY 2024
Thursday 15th to Saturday 17th February
MAY 2024
Wednesday 29th to Friday 31st May
APRIL 2024
Monday 8th to Friday 12th April
AUGUST 2024
Monday 5th to Friday 23rd August
Super Kids Therapy also offers weekly DMI Therapy sessions on request. If this is something you are interested then contact us or complete the Intake Form.
FAQ
FREQUENTLY ASKED QUESTIONS
Q. What is the cost of an Intensive?

Price varies depending on the length of the intensive. A week long intensive starts from £900.

Q. How long is a Full Intensive?

We offer 1, 2 or 3 week full intensives.

Q. Do I need to complete the Intake Form?

Yes this is a requirement as it will allow us to work out if DMI therapy is the right choice for your child.

Q. How Is DMI Therapy different from Traditional Therapy?

DMI is a very powerful and dynamic approach. What sets it apart from more traditional methods is that DMI is constantly working on improving brain function and harnessing the power of neuroplasticity. This is accomplished by using exercises that expose children to gravity, provoke the next set of developmental skills and milestones, and the use of distal and decreased support. Seeing a DMI session performed is usually a new and exciting experience for both the child and their parents.

Q. What should I expect at my child's first Session or Intensive?

After a brief assessment, Amy will identify areas of deficit, which will guide the treatment. Amy chooses exercises that will challenge your child's neurological system to the highest level of skill as well as exercises that develop the core and foundational milestones. Exercises involve movement against gravity, progressively more challenging (distal) support, provocation of desired movements, as well as postural and strength challenges. During a treatment session, each exercise is repeated around 5 times and the child will complete many different exercises which provide novel and varied sensory and motor challenges. From session to session, exercises may be repeated until the movements become automatic, which results in improved balance and function. Exercises are conducted on a tabletop or the floor based on the child's abilities. DMI Therapy works well in conjunction with other therapeutic techniques and therapy equipment. These are often combined in a treatment session to provide better alignment and enhance optimal outcomes.

Q. Is It okay that my child cries during DMI Therapy?

Yes. Some kids will cry during therapy. DMI Therapy is hard work. Some children cry about going to school, but as their parent, you would still take them to school because you know that it is what is best for them and their future. Don't be afraid to speak up as well. If you think a change could be made to help your child calm down (a quick break, quieter room, dimmer lights, etc.) be open with your practitioner.

Q. How physical is DMI therapy?

DMI is very physically demanding for the patient and for the therapist, therefore a weight limit is enforced to protect the child and the therapist from injury.
TESTIMONIALS
HEAR FROM OUR CLIENTS AND FAMILIES
We have been working with Amy now for over two years. She has helped us immensely to support our son, Samuel, with his sensory seeking behaviours. Sam follows a 'sensory diet' during the day to help him regulate his behaviour and to encourage greater attention and listening skills and opportunities for learning. Sam enjoys every session and I always come away feeling positive about the targets to work on. Amy provides practical advice in a reassuring way and has gone the extra mile to help us, as a family, to make adjustments to meet Sam's needs.
What does a good Occupational Therapist do? They make life work, for the disabled child and the family around them. These are the angels of the helping professions, every disabled family needs one as part of their team. All those things that make daily life hard, a good OT will know how to make it easier. Amy Blake is a highly experienced, empathic and effective OT. She came on board as my 16 yr old daughter with CP transitioned to college. Her understanding of my daughter's needs, her knowledge of what's 'out there' and her ability to communicate those needs and solutions with college and family is excellent. Her confident understanding of how to make my daughter's life as productive and stress free as possible is hugely re-assuring and allows me to relax and focus on other things. My daughter loves her!
SUBSCRIBE TO OUR NEWSLETTER